Meet The
Coach
Meet our expert Coaches. No matter what your goal is, they will help you to reach it.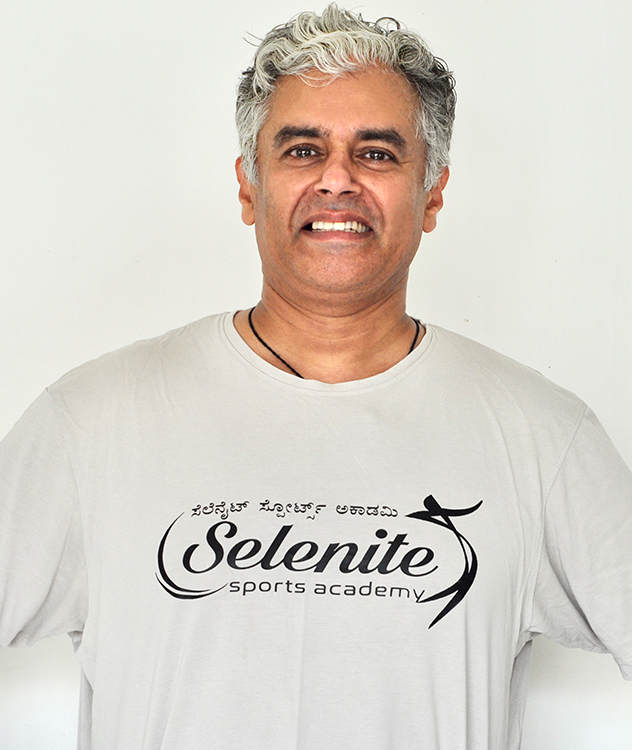 U Vinod
Director of Coaching
In the hallowed halls of badminton history, a legend was born, a prodigy named U Vinod. At the tender age of four, he took his first steps onto the court, and from that moment, the world of badminton knew it had found a star in the making. The years rolled by, and with each passing tournament, he etched his name into the annals of greatness. Thomas Cup, Sudirman Cup, Asian Badminton Championships, World Championships, and the list of accolades seemed endless. He is a 10 Times National Champion while playing the national Championships finals an unimaginable 16 times. He was India No.1 for 8 consecutive years in Men's Doubles, 5 consecutive years in Mixed Doubles and No. 5 in Men's Singles. He soared to an IBF ranking of 28 in 1996, defying all odds to claim his rightful place among the best in the world. The World Grand Prix bore witness to his mastery, crowned a champion once, and yet, it was his unyielding spirit that made him a finalist, time and again.
In the new millennium, U Vinod stepped into the realm of coaching, imparting his wisdom to the next generation of aspiring champions. As the Indian doubles team's mentor for the Commonwealth Games, he instilled in them the same fiery determination that had fueled his own rise to stardom. The year 2001 saw him at the helm, guiding the Indian team as their coach, a beacon of inspiration amid fierce competition.
The legacy of U Vinod extended beyond the triumphs of his protégés, reaching far and wide, touching the lives of Arvind Bhat, Anup Sridhar, Ajay Jayaram, Daniel Farid, Ashiwini Ponnappa, Ashwini Bhat, Shikha Gautam, Prakash Raj, Kushal Raj, Sai Prateek, Prakash Jolly, Aditi Mutatkar, among many others. These well-known names in the badminton world owe their success to the profound influence of their mentor, who not only shaped their skills but also kindled a fervent love for the sport.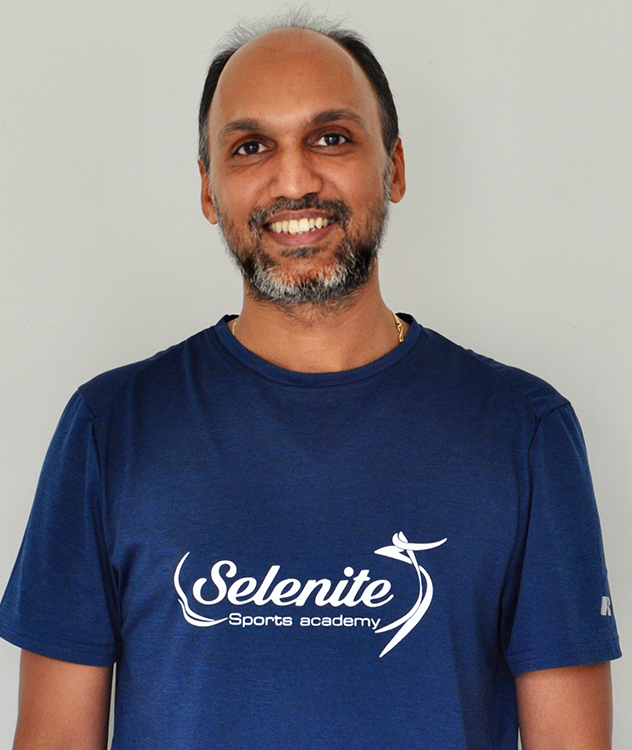 Srinath J. R.
Senior Coach (Junior & Sub-Junior)
From the early days of his career, he displayed his exceptional talent as a playing member of the Karnataka Senior State Badminton Team in 2002, 2003, and 2004. The titles began to pile up, as he emerged triumphant across various categories in Junior and Senior State Ranking Tournaments held in Karnataka between 1998 and 2007.
In the defining moment of his career, he etched his name in history as the Winner of the Karnataka "State Olympics - 2004" in Men's Doubles. Leadership beckoned, and he rose to the occasion, captaining the Bangalore University Badminton Team for three consecutive years from 2002 to 2004. He earned the honor of being the Captain of the South Zone Inter-Varsity Winner's Team for Bangalore University in 2004-05.
In 2011, he embraced the stage of the Karnataka Badminton League (KBL) as a playing member of Team White Peacock, captivating the audience with his extraordinary skills and sportsmanship. The corporate arena also witnessed his brilliance, as he bagged various Inter-Corporate Tournament Titles, both in team and individual events, representing Infosys between 2007 and 2016, earning the admiration of his peers and superiors alike. The year 2017 saw him as a playing member of Team Hyderabad Nawabs, dominating the 35+ Men's Doubles category in the Masters Badminton League (MBL) held at Chandigarh, emerging as the undisputed champions. He got the Silver Medal in the 35+ Men's Doubles category at the 42nd Indian Masters National Badminton Championships 2017-18, held in Visakhapatnam, AP. He represented Team Hyderabad Nawabs at the Hyderabad Master's Badminton League (HMBL) in September 2018.
As a coach, he is training and mentoring young talents at Selenite. He is responsible for shaping the playing careers of Sub-Juniors at Selenite Sports Academy. Srinath was the coach of Karnataka State sub-junior team in 2022. He is also coach of GPBL team Bandipur Tuskers.
Gielbert Tanaem
International coach

In the intense realm of badminton, a true champion arose, leaving an unforgettable mark on the sport. In 2001, he claimed victory as Championat the Bandung Cup in Men's singles. The next year, he became the runner-up at DKI Jakarta. In 2004, he soared to triumph as Champion in Men's Doubles at the Mayor Bekasi Cup.
His determination remained unwavering, reaching the semifinals in men's doubles at Nort Jakarta in 2006. In 2007, he reached the finals at PBSI East Jakarta, securing the runner-up spot. In 2016, he triumphed as Champion in men's singles at the Media tournament.
Forming another strong partnership in 2017, he conquered the men's doubles at the Inter Company championship. In 2018, he reached the semi finals in men's doubles at PBSI North Jakarta.
Coach Gielbert is an Indonesian Citizen and has been with Selenite Sports Academy for over 2 years. His amazing feeding help players hone skills and get better at the game. He works with players like, Daniel Farid, Sakshi Phogat and a set of doubles players.
Rohith Kumar K
High Performance Strength & Conditioning Coach

Meet Rohith, a certified fitness virtuoso with an impressive portfolio of credentials. As a 2021 ASCA (Australian Strength & conditioning Association) Coach, ISAK (The International Society for the Advancement of Kinanthropometry) - Level 2. He has also completed Masters in Sports Biomechanics and Kinesiology.  He designs tailored training programs for athletes and fitness enthusiasts. His expertise extends to pre-hab and rehab, ensuring safe and effective workouts.
Rohith's journey began with being the Head Strength & Conditioning Coach for Hatsun Badminton Academy.
A state-level table tennis player himself, Rohith's personal experience enriches his ability to connect with athletes. Passionate, innovative, and dedicated.
Aditi Jain
Physiotherapist
Meet Aditi, a seasoned and learned physical therapist dedicated to restoring, maintaining, and rehabilitating patients' movement and overall well-being. With a wide range of recovery-focused treatments at her disposal, Aditi delivers highly customized care, incorporating innovative approaches to recovery based on an in-depth knowledge of pain anatomy and human physiology.
Education has been a cornerstone of Aditi's journey, earning an MPT in Musculoskeletal Science from MAHE Manipal University, Udupi, from 2020 to 2022. Prior to this, she completed her BPT from SAIMS, Indore, from 2015 to 2020, honing her skills and passion for helping individuals on their path to recovery. Her areas of focus include expertise in manual therapy techniques, kinesiology, anatomy, soft tissue manipulation, traction manipulation, and expert stretching. Aditi's pursuit of knowledge is evident through various specialized courses, including Dry Needling, Cupping Therapy, Kinesio Tapping, IASTM, Chronic Pain Management, and Neurodynamic (Upper and Lower Quarter). Additionally, she has explored Basic Spine Osteopathy, becoming a well-rounded therapist with a comprehensive understanding of different modalities.
Meet The
Center Heads
Meet the team that manages our centers.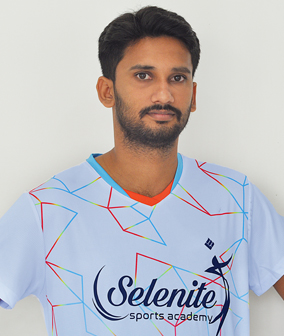 Basheer Syed
Selenite @ Sportexx Sports Center
Has played and won many interzonal, inter-state, state & national ranking tournaments.
Was a young star with many tournament wins at junior and sub-junior levels.
Former Juniors India No.1
Has worked as senior coach in international badminton academies.
More than 7 years of coaching experience.
Mohd. Farhan
Selenite @ Adena Sports
Excels at practice and strategic game planning.
Proven skills in improving player strength, agility and game skills.
Has knowledge and experience in nutrition for strength and good health of players.
Great at accessing students' skills
Great at guiding students to make their weakness as their strength.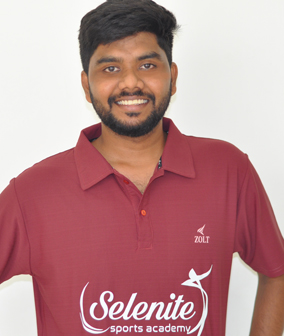 Gagan Kumar
Selenite @ FTSA Uttarahalli
Worked at many prestigeous Badminton Academies.
Been head coach at number of academies.
Has good coaching experience across all skill levels.
Played in many prestigious & State ranking tournaments.
More than 7 years of coaching experience.
Mohd. Ameer
Selenite @ Sky Sports Arena
Former national ranking player
Played in many national and state level tournaments for 14 long years.
Was head coach at many badminton academies
Served as Manager & Senior manager for Tamilnadu Team
Has coached many national ranking players.
Sparsh Arora
Selenite @ FTSA J.P.Nagar
Vast experience of working with teen and pre-teen kids
Worked in  many prestigeous academies
His work experience is distributed all across India
Has a humble beginings and has reached the position of a head coach numerous times.
Great with kids.
Meet the
Management
Meet our management team.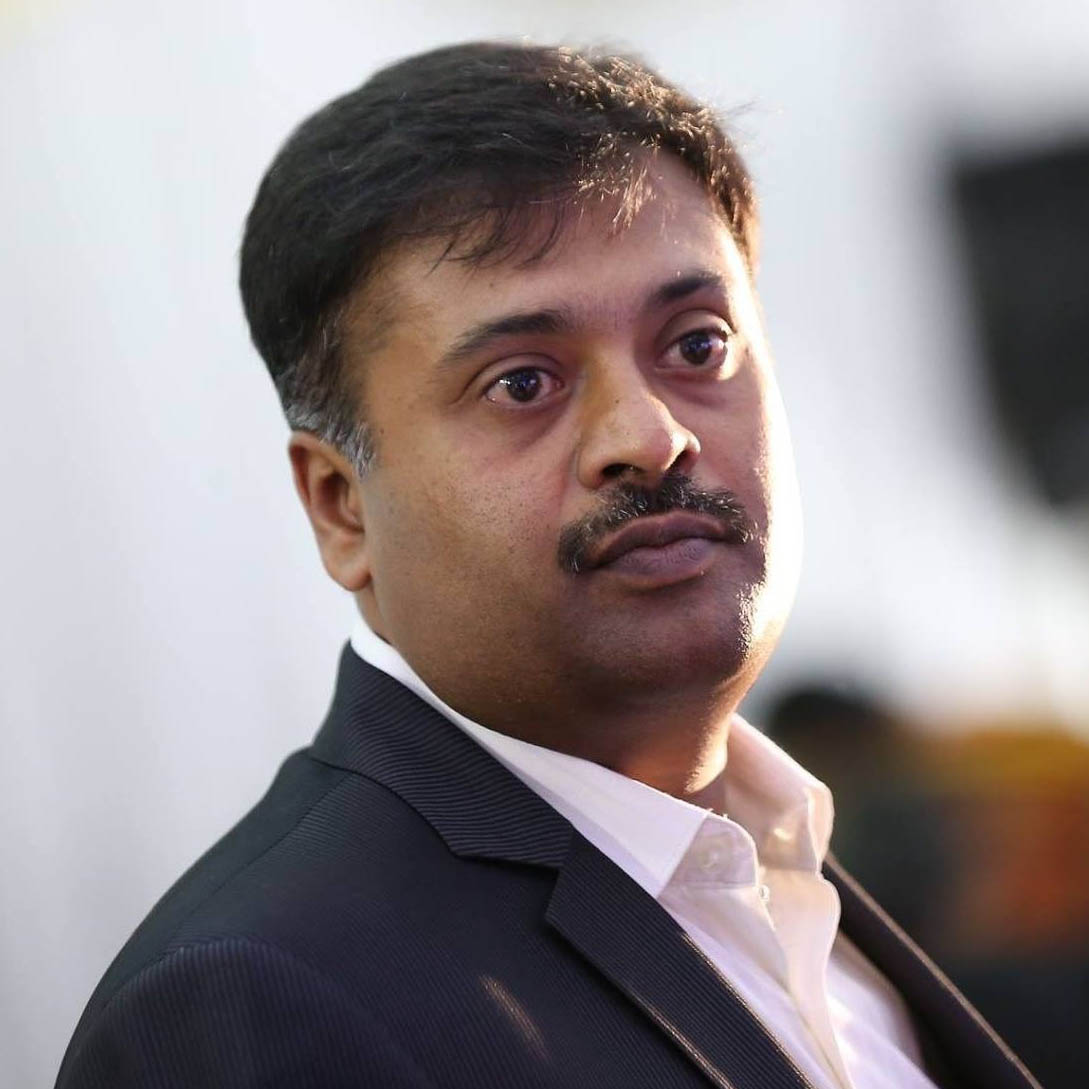 Manjunatha G. A.
Founding Member & Director
A Founding member of Selenite Sports Academy, Manjunatha harbors the vision of developing world class sports personalities from the grassroot level by providing the best-in-class sports facilities with supervision from topnotch sports gurus. He is a National and State-level Throwball player, representing Karnataka between1992-1996. An Engineer by education and technologist by profession, Manjunatha is deeply committed to sports excellence through providing best sporting infrastructure and bringing in the right technologies for the upliftment of sports excellence in India.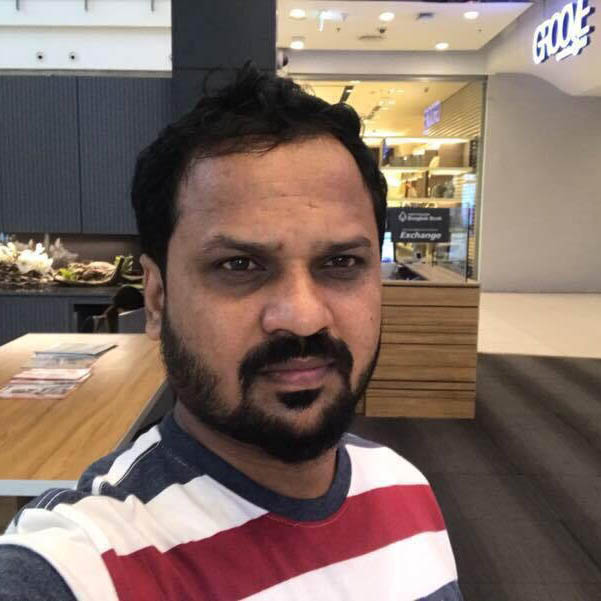 Jaya Keerthi
Director
A successful entrepreneur, Keerthi is highly regarded in the world of business. He fosters a keen interest in sports and as a partner at Selenite he hopes to accelerate the growth of Badminton in India. Charismatic by nature and full of energy, he is leaving no stone unturned in making sure that the athletes at Selenite avail the best possible coaching. Keerthi is also a humble philanthropist and has adopted several government schools to ensure that he is doing his bit in the provision of education to India's youth.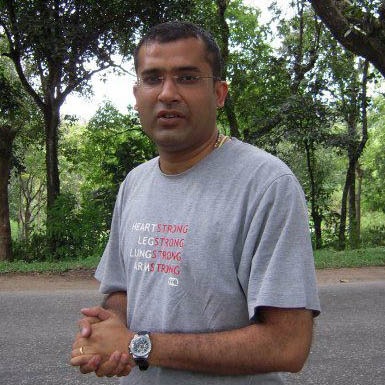 Sanjeev Katti
Director & CEO
Sanjeev Katti, has a great zest for Badminton. He has achieved great heights as an athlete and has many laurels to show. Sanjeev's profound experience in the world of Badminton has made him an admirable coach for sub-junior and junior categories. As a Player, he has secured many titles across Junior, Senior, 35+ and 40+ categories in State Ranking and South Zone events. He was a playing member of Karnataka University, Dharwad, team. His past in the corporate world, where he has held several senior leadership positions for 18 years, gives him the edge required to oversee the smooth functioning of Selenite. .
Since having opened its doors in 2017, Selenite has constantly strived to be a front runner in the arena of Badminton.  A massive facility spanning over 40,000 square ft, equipped with the best coaches and amenities; Selenite has and will continue to produce renowned Badminton players who will make our nation proud.
The blazing trail that the athletes leave behind can be traced back to the coaches who train them. Selenite can boast of distinguished and illustrious coaches who have numerous accolades to their names.
At Selenite we believe that hard work and perseverance should never go unnoticed, hence we provide several benefits such as scholarships and player welfare programs for our athletes. To further enable our athletes, we are a performance center with world class facilities including a fitness coach, strengthening coach, nutritionist as well as a physiotherapist.
Vision
Our vision is to set the standard of excellence for sports by providing first class programs, professional coaching, and life skills. These sports opportunities and programs will contribute in our goal to have players compete in the Olympics
Mission
Selenite seeks to provide the best coaching possible and to ensure a holistic development of its athletes.